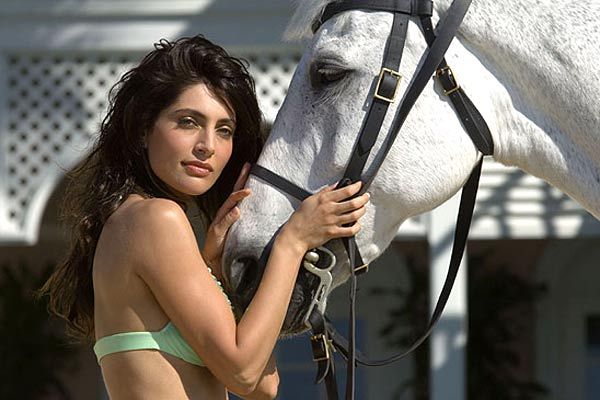 ...... I have been to see the new Bond movie, and in my opinion it is brilliant, so much so, that I will be going back to see it again next week.
Daniel Craigs first outing as Bond is convincing & a quality performance. Same sort of formula for the film, an excellent villain (Mads Mikkelsen) glamourous girls (Eva Green and the beautiful Caterina Murino [see right]), very cool guns, gadgets [this time a defibrillator!?], fast cars [keep to Aston Martin please!], watches [Omega Seamaster Professional 300M , though this should go back to Rolex Submariner imho] and amazing settings (the house on the lake in the last scene is just stunning), but somehow it's different. Bond gets a real fight, the opening scene in B&W is filmed a bit like Lock Stock..., another scene where Bond strangles a villain to death is quite graphic, and probably makes it more than a 12A cert in my opinion. It's all very different to the previous Bond movies where the likes of Roger Moore didn't get a hair out of place when tackling a villain like Jaws.
Production has already started on the next installment, currently with the imaginative working title of "Bond 22", scheduled release date is now Nov 7th 2008, so only another year to wait!
I would highly recommend a click to the excellent fan website called
MI6
, packed full of all sorts of news, history, wonderful facts & information.